Want to Know More About E-Bikes?
What is an E-Bike?
An e-bike, or pedal assist bike, is a bicycle with a motor and a battery. It looks and operates very similar to a conventional bicycle. It has all the key parts of a bicycle like pedals and a chain. And you still get exercise riding it. But unlike a conventional bicycle, every e-bike also has a motor, a battery, and a controller. The motor is activated by your pedaling and gives you a boost.
How Does an E-Bike work?
An e-bike or pedal assist bike provides a gentle assist to your pedaling. The assistance automatically kicks in when you're pedaling and gently adds power to your pedal stroke. The amount of assistance depends on a setting that you can control on the bike. Most e-bikes have settings such as Eco (20% boost), Sport (50% boost) and Turbo (100% boost). If you have your e-bike in Sport mode, the motor would add a 50% boost to your pedal power. In other words, with the motor, you would be pedaling at 150% of whatever is your pedal power.
E-Bike Sizing
One of the most important things about purchasing a new e-bike is that you get one that fits best for you. Most crucial to getting a good fit is knowing which size bike frame you need, loosely based on your height. Beyond frame size, an e-bike's frame geometry will determine how it is supposed to fit your unique body measurements. An option that is also available in some styles of e-bikes are step through frames that make it easier to mount and dismount.  Additionally, some pedal-assist bikes have a frame design that lets you put your feet flat on the ground when stopped, which allows for easier control of the bike.  Visiting a bike shop is the best way to dial in your fit so that your knees, shoulders, back, feet and hands are all properly aligned for the riding position you need. You can also visit a fit specialist for a detailed bike fit, which can prevent chronic injury and help you perform your best.
E-Bike Components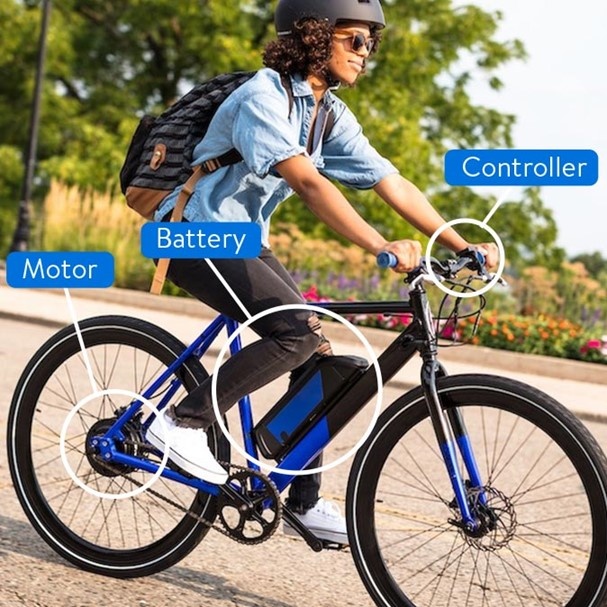 Three things separate e-bikes from conventional bikes.
Motor: A small compact electric motor that provides a boost when you are pedaling

Different bikes have different motors for different purposes. A Levo is going to have a motor that produces a lot of torque which allows the rider to take on challenging climbs in tough terrain. A bike like the Como/ Vado will have less torque so that it is easier to control and conserves more battery, which will be better for commuting/ recreational use.

Battery: The motor runs on a rechargeable battery. Batteries are very important when looking at pedal assist bikes. They control how far you are able to pedal when assisted.
Bike Computer: Usually found on the handlebar, it allows you to adjust the amount of assistance the motor gives you, see how much battery power is remaining, and how fast you are going. It controls not only your assistance level, but it also connects to your phone through Bluetooth and allows you to make software updates to the bike and run bike diagnosis. It also speaks to the battery and the motor. On Specialized e-bikes it is called the turbo control unit.
E-Bike Categories
Much like conventional bikes, e-bikes fall into distinct categories. The features found different categories of e-bikes will be identical to non-electric bikes of the same category apart from the electric motor.
Mountain
Road
Recreational/ Commuter
Cargo
E-Bike Classes
Electric bikes are divided into three classes based on the level of potential motor assistance.
Class 1 Electric Bikes:
Must be pedaled to receive assist
Motor assist stops when a speed of 20mph is reached
Allowed on city streets and most bike paths
Class 2 Electric Bikes:
A handlebar-mounted throttle operates motor assist, even without pedaling
Motor assist stops when a speed of 20mph is reached
Allowed on city streets and most bike paths
Class 3 Electric Bikes:
Must be pedaled to receive assist
Motor assist stops when a speed of 28mph is reached
Allowed on city streets but not permitted on most bike paths and trails
Before buying, it is a good idea be sure to check your state and city's current e-bike laws. A great resource on e-bike class regulation is People for Bikes' state-by-state guide to eBike regulations around the country.
Differences in E-Bikes
Motor Placement
Mid drive: Center drive motors are the most current technology. Placing the motor at the center of the bike keeps the center of gravity lower and towards the middle of the bike, giving it a balanced feel. They also allow for easy tire changes since the wheel comes off like a standard bike (versus hub drive). One of the biggest benefits of mid drive motors is that it can sense how much power the rider is putting down and then give assistance based on that. For example, if you put in a quarter pedal stroke as you're rolling up to a stop sign, the bike will not lurch forward. They also have an extremely smooth delivery of power.
Hub drive: Hub drive motors sit inside an enlarged hub that's built directly into the rear or front wheel. Hub drives e-bikes can be a little harder to control because there is a lot of extra weight over one of the wheels. Additionally, hub drive motors do not take into account how much power a rider is putting down.
| | |
| --- | --- |
| | |
| Hub-Drive Motor | Mid-Drive Motor |
Battery Placement
Integrated: Integrated batteries are built directly into the bike, usually in the downtube. This brings the center of gravity closer to the ground and in the middle of the bike, creating a more balanced feel. E-bikes with integrated batteries look very much like a traditional bicycle - it can be hard to tell they are different. They give the bike a clean look.
External: Batteries are mounted externally on the bike, often on a rack on the back of the bike or on the top of the downtube.
Battery Ratings and Range: How far can an e-bike go?
Batteries are rated by wattage. A battery with a higher wattage rating will supply more power to the motor and have a longer range. Manufacturers devote a lot of attention to the power plant in each bike. The design tradeoff is performance versus riding range. A more powerful motor delivers more speed for keeping up with traffic and more torque for climbing hills and hauling cargo. A more powerful motor also burns up the battery faster, reducing your riding range. Having a big battery helps, of course: Capacities are stated in watt hours (Wh), the number of hours a battery can sustain 1 watt of power before dying. Thus, motor power also matters: A 500-watt motor paired with a 500 Wh battery (a common class 3 bike setup) drains power more quickly than a 250-watt motor with a 500 Wh battery (a common class 1 bike setup). Follow the link below to view the Specialized Range Calculator.
Technology interface
The controls of the e-bike are different depending on the brand but all provide similar features. These typically include the ability to adjust how much assist the bike will provide, a battery level readout, and typical cycling computer functions like speed and distance.
Types of Batteries
Lithium Ion: This type of battery is the most desirable because it has the longest lifespan and is lighter.
Sealed Lead Acid: These batteries are less expensive, but have much shorter lifespans than Lithium Ion batteries and are also much heavier.
Other Features and Components
Pedal Activation and pedal feel
The more performance-oriented the bike, the smoother and more responsive its pedal assist will feel. Test ride several bikes to find one that reacts at the speed and intensity that work best for you.
Pedal Assist Levels
Most bikes offer 3 or 4 assist levels, allowing you to preserve battery power (eco mode) or summon more speed and torque (in turbo or boost mode).
Integrated accessories
Lighting: Found most often on city and commuter bikes, this is a nice safety feature to have. Systems vary, with high-end bikes having more powerful lighting.
Racks: Typically found on cargo e-bikes, these sturdy racks can support heavy loads. E-bikes can also accommodate a wide range of separately purchased racks, though you'll need to verify that a rack will fit your bike model.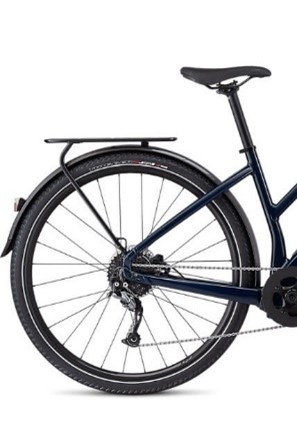 Smartphone integration: Top-end e-bike electronics can connect wirelessly with smartphones. Available apps might include GPS, service records and additional screen capabilities. Some apps even let you unlock your bike's integrated lock.
Handlebar mounted LCD displays: There's a lot going on with an e-bike, so it's helpful to have a handlebar-mounted bike computer that lets you monitor battery life, pedal-assist mode, miles ridden, speed and more.
Built-in security: Some bikes come with rear-wheel locks attached to the frame, and others have locks on the battery that can be keyed to match a bike lock (purchased separately) made by a partner brand.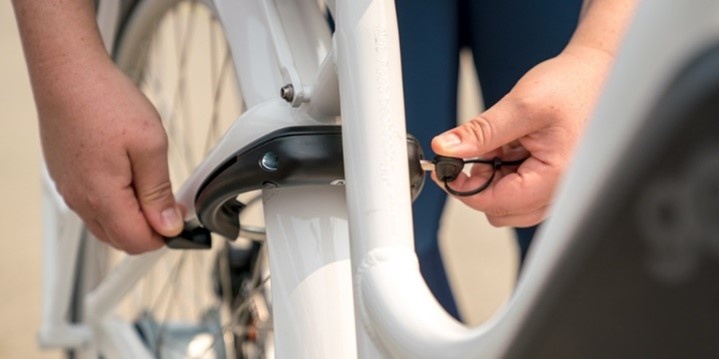 E-Bike Maintenance
Maintenance of an e-bike is largely the same as a regular bike. Motors are sealed and don't require special maintenance. The only thing you need to do that's different is keep the battery properly charged, which is as simple as plugging it in after a ride. Since the motors and batteries are sealed, they can also be ridden year-round in any weather.
Do You Need an E-Bike License and Where Can You Ride?
E-bikes can be ridden just about anywhere a conventional bike can be ridden. It's always a good idea to check with your local municipality to make sure you're abiding by the local laws.
E-Bike Transportation
E-bikes are heavier than non-electric bikes because of their motors and batteries. As a result, you might not be able to easily put it into your trunk like a regular bike.
When putting your electric bike in your car isn't an option, we recommend using a car rack. They're easy to install, easy to secure your e-bike to, and leave space inside your car. However, not all car racks are made for the weight of an electric bike.
Some e-bikes weigh upwards of 60 pounds, and many car racks just can't handle that weight. Most trunk racks are not compatible as they typically have a per bike weight limit near 35 pounds. Even most hanging style racks are out because most are rated for 40 pounds per bike.
Tray style hitch car racks are the best option (the only option, really). We recommend this style because you don't have to lift your e-bike high up off the ground and maneuver it onto a hanging style rack. Each of the bike's wheels are secured to a tray that holds the bike. Also, there are several options rated for electric bikes.
But, even with tray hitch racks, you'll have to check the capacity. Some racks have a 60 pound per bike capacity, but you have to be aware of the total weight capacity! Even though a rack may have a 60 pound per bike weight capacity, the entire rack may only have a 100-pound total capacity (meaning it might only hold one e-bike).