Winter Schemin' - Birkie Fever Edition
---
This past weekend I went up to spectate and do feed-zone hand-ups for the Chequamegon Mountain Bike race Festival. The race takes place in northern Wisconsin (Cable-Hayward area) and is the first race I ever did! Back in 2010! It has always been a special weekend with family and friends so even though I was a smidge disappointed not to be racing - especially in a year with such a large and competitive women's field - it was great to be up there. I ended up getting two rides in on singletrack which felt amazing. During one of the rides the skies opened, and we got absolutely drenched. I haven't ridden in the pouring rain in quite a while and it was so fun!
[After a rainy ride – so overjoyed to still be riding singletrack at 34 weeks pregnant!] 
Being up in Cable and watching some fast bike racing got me thinking more and more about the 2023 race season and opportunities to get back into the mix after giving birth. I am so looking forward to racing again!! So much so that I'm not going to wait until bike season.  
This part of northern Wisconsin is also known for ski racing. In fact, the Chequamegon mountain bike race uses some of the American Birkebeiner Ski Trails. My latest 2023 plan is to have the Birkie be my first post-partum event!! 
I'm not a great skier, but I am so excited to be back to participating in events! The 2023 Birkie is about 4 months after my due date and I am going to use this race to accomplish a few different goals. 
       1. Test how my body responds to a harder/longer race effort 
It will be interesting to gauge my recovery post-partum. A longer event will give me an idea of where my endurance is, what I need to work on a bit more, how my core is recovering and strengthening, etc.  
       2. Start to figure out navigating race day with a baby works 
This is something that I have been thinking a lot about and trying to figure out! As the baby gets older, I think it will get a bit easier because it will mean more time between feedings. (Hopefully? First-time parent… no clue what I am doing!). For the Birkie, my goal will be to finish within the amount of time that the baby can go without eating! Luckily my family will be close to help out with babysitting too!  
[Photos from my first and second Birkie!] 
           3. Add some extra incentive to my winter training 
As a Minnesotan, the majority of my winter training happens on the trainer. Skiing is a great way to add endurance hours, mix it up a bit and get outside. I think with a new baby it would be easy to skip the skiing and focus on the trainer because it will be easier. However, I find that getting outside and changing it up is so great for my mental health. I live in such a gorgeous place with tons of ski access and it would be a shame to let that go unused!  
[Skiing last winter with my husband! It was his first year on cross-country skis!] 
Using a ski race for these goals is great because I put a lot less pressure on myself when it comes to skiing compared to riding. I am not fast enough to be competitive in a ski race so all I can compare to is my training and previous efforts. This sets me up to be more adaptable and less stressed than I would be at a bike race. Hopefully, this will set me up to be more prepared when the 2023 mountain bike season begins!  
The Birkebeiner is also a perfect race for a new mother because of the lore behind the race. In 1206, Norway was in a civil war and Prince Haakon, son of a Norwegian king was in danger. The infant was skied by two warriors over the Norwegian mountains to safety! Every year at the American Birkebeiner there are reenactors chosen to ski the race with an infant, dressed in traditional costumes and wooden skis!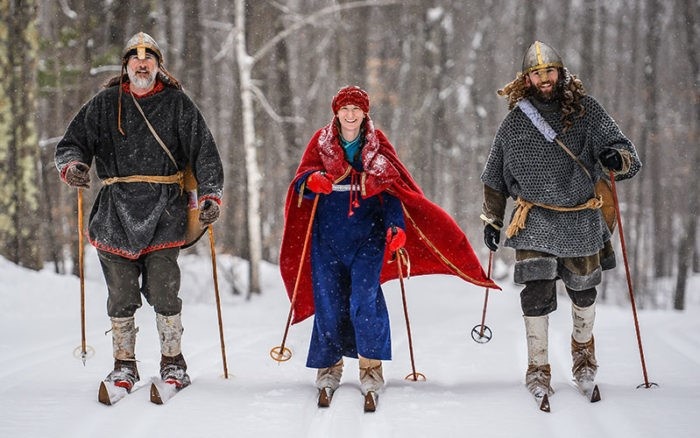 Learn More about the American Birkebeiner