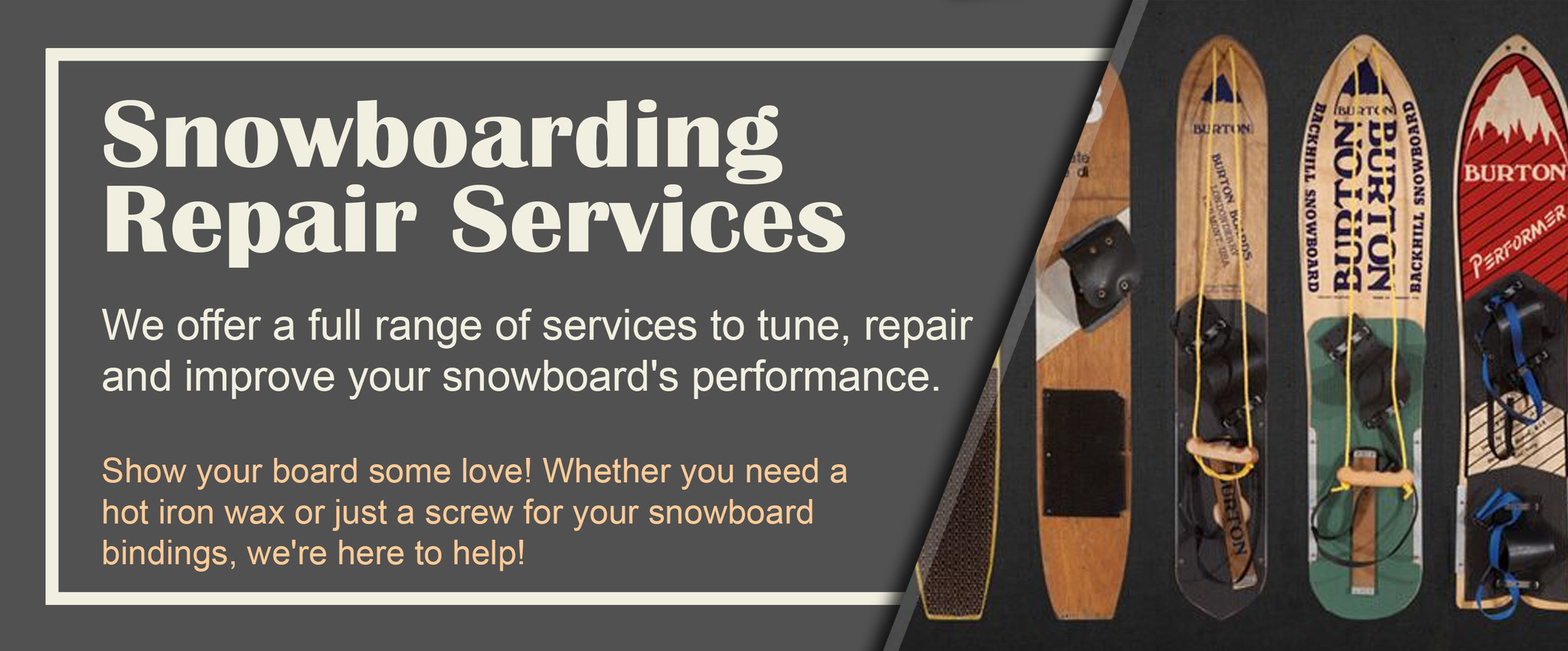 Friendly Advice by Highly Experienced Technician - We offer a comprehensive range of services and repairs for your alpine/downhill skis.  
Hey y'all our new brand-new tuning machine is up and running, and we are officially open for service for the 23-24 season!
Quick Turnaround Time
Fast turnaround time is always our a top priority – Most of the time we can do minor service while you wait and typically we can get your equipment back to you within a couple of days.  Of course, this can change depending on demand and available supplies.  Please call ahead if you have an urgency need or want something by a certain date.  Otherwise, our services is based on first in, first out.
Custom Repair or Service
Don't see what you're looking for? Stop in to get a free inspection and estimate.
   Basic Tune




 $40

 

 

Clean snowboard base by brushing it.

Sharpen edges to factory base/side bevel.

Apply hot wax.
Brushed out finished waxed base for better glide.

The Basic tune is appropriate for a board at least once a year regardless of use.

If the base has minor wear and tear.

If the edges are dull and you want more edge hold on icy conditions.
  Standard Tune




 $60

 

 

Clean snowboard base by brushing it.
Sharpen edges to factory base/side bevel. Or consult with our service technicians about picking a new edge bevel.
Apply hot wax.
Brush again to get a better finish.
P-Tex base plastic welding, to fill in those small scratches and regain lost speed.
Epoxy small delaminated "top sheet" issues or base separations.

There is nothing worse than feeling a rock under your skis. Luckily there is our Deluxe tune, which will include all the aspects of the basic tune plus a little more!

If the board has seen a hard life from rails and such, excessive P-Tex and/or Epoxy work will incur an additional fee that will require a in person estimate with a service technician.
| | |
| --- | --- |
|   Binding Mount with Purchase |   Complimentary |
|   |   |
| For full package purchase with deck, bindings and boots. |   |
| | |
| --- | --- |
|   Binding Mount with Partial Purchase |   $20 |
|   |   |
| Partial purchase of deck, bindings and/or boots combination |   |
| | |
| --- | --- |
|   Boot Fitting | Heat Molding Pricing |  $40 |
|   |   |
| Boots purchased from Ski Hut get a complementary heat mold. | Boots bought from anywhere else will have a $40 charge for heat molding. |
| | |
| --- | --- |
|   Hot Box Service |   Call For Pricing |
|   |   |
|   |   |