When's the Right Time for a Bike?
New research shows that the earlier your child gets on a bike, the more likely they'll continue to ride later in life. And if you ride yourself, you're probably looking forward to sharing cycling with your kid. If your child has conquered walking, they're ready to start using a balance bike. In other words, the earlier, the better!
The best indication of which size is right for your child is how comfortable they feel on the bike.
In order to get the perfect fit for your child it's always best to have the child get fitted in person, this way they can take the bike for a test run to make sure it's comfortable. One of our experts at SkiHut can help ensure a personalized fit and knowledgable recommendations. 
Though a bit harder, if you are unable to bring your child in, it's still possible to get a good fit. In order to do so you will need to come prepared with your childs measurements so our experts can compare them to bike specifications to ensure you walk away with a bike that's just right for your child. 
What Size Bike Does My Child Need?
The most notable difference between adult and youth bikes is sizing. Adult bikes are measured by frame size whereas youth bikes are measured by the size of the wheel. These bikes will most commonly begin with 12" (being the smallest size) ranging all the way up to 24" (the largest size), after which point they are free to transition to an adult bike.  
However, wheel size is just the starting point to consider as you look for a kids' bike. The following chart is a rough guide to kids bike fit, however cannot replace the value of an in-person fit. Bike sizing also varies between manufacturers so it's important to check a brand specific size chart if available.

Although it is tempting to buy a bike your child will grow into for the sake of longevity, it's especially important that your childs bike fits now rather than later. A properly sized bike will be significantly easier, and safer for kids to handle, and they'll also enjoy riding it a lot more.  
What to look for when your child is trying a new bike
The stand-over height—the distance between the top tube and the ground—is an important factor in sizing a kids' bike. The length of your childs legs are an important determining factor in distinguishing a good fit, he or she  should be able to straddle the bike with their feet flat on the floor so their crotch isn't resting on the top tube of the bike. This is both for comfort and safety.
To measure the child's inseam (or the inside leg length),

gather a large hardcover book or notebook, tape measure and pencil.
Have the child stand against a wall.

Put the book (spine up) between the child's legs.

Use the pencil to mark where the spine of the book meets the wall. Measure from the mark to the floor. This is your inseam.
Can they reach the handlebars? Your child should be able to comfortably grip the handlebars while still keeping a slight bend in their arm in order for them to steer easily. For kids with a 20"+ wheel base, it's also important to make sure they are easily able to reach and squeeze the hand brake. 
Seat height: Kids' bikes, as opposed to adults' bikes, are designed in such a way where the child will ride in a more upright position. When measuring seat height, legs should be slightly bent at the bottom of the pedal stroke and the rider should be able to sit comfortably and easily see their surroundings.
Kid's Bike Sizes
12-inch- and 14-inch-wheel Bicycles
Approximate range: ages 2 to 4 (depending on child's height and inseam)
Balance Bikes
Balance bikes are the new training wheels. These bikes have no pedals so the child uses their feet to push themselves along. This method teaches them the most important lesson in biking, balance. Learning this balance early on makes for a smoother transition to a regular bike - just add pedals!  Balance bikes predominantly come in two sizes, 10" and 12", and are suggested for toddlers and kids up to 5 years old.

Specialized Hotwalk Carbon
Bikes with pedals
Moving up a step, bikes with 12 and 14 inch wheels are available both with pedals and removable training wheels and feature rear coaster brakes. These bikes are single-speed and allow kids to gain confidence in their riding abilities before transitioning to a fully-two wheel bike. Really young kids may not yet have the strength to pedal a bigger bike and so if that is the case you may want to consider starting them off on a balance bike.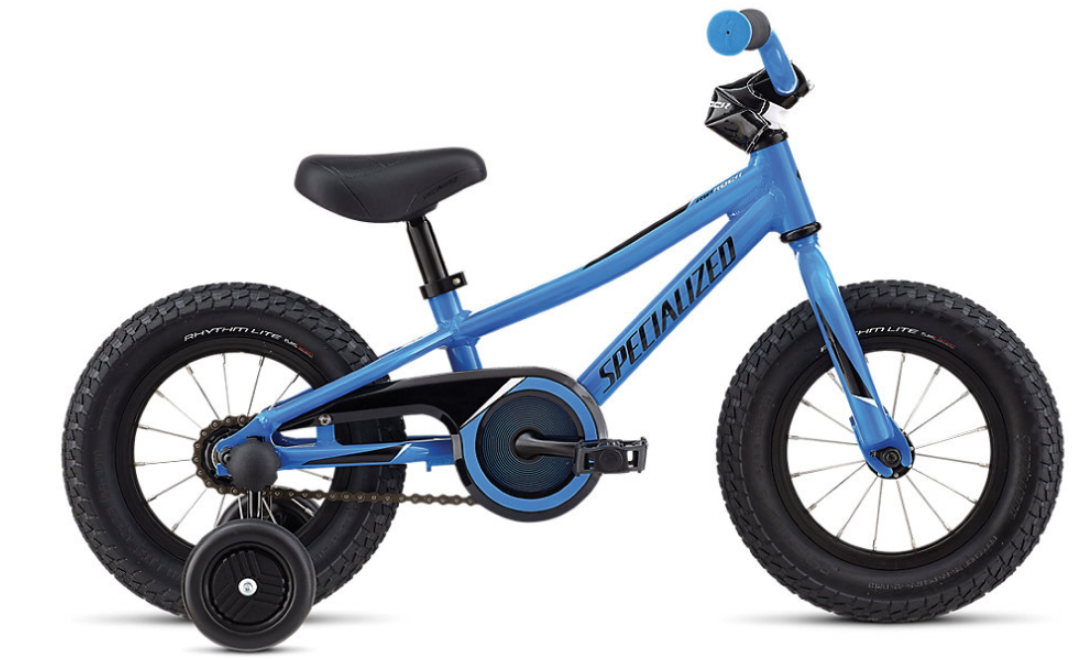 Specialized Riprock Coaster 12
16-inch-wheel Bicycles
Approximate range: ages 5 to 8 (depending on child's height and leg length)
From their first bike, a 16" bike is often the next step as the first pedal bike. These bikes once again feature rear coaster brakes, only have one speed and most come with a removable set of pedals. If you're just looking to gain style points, you can also opt for a cruiser bike.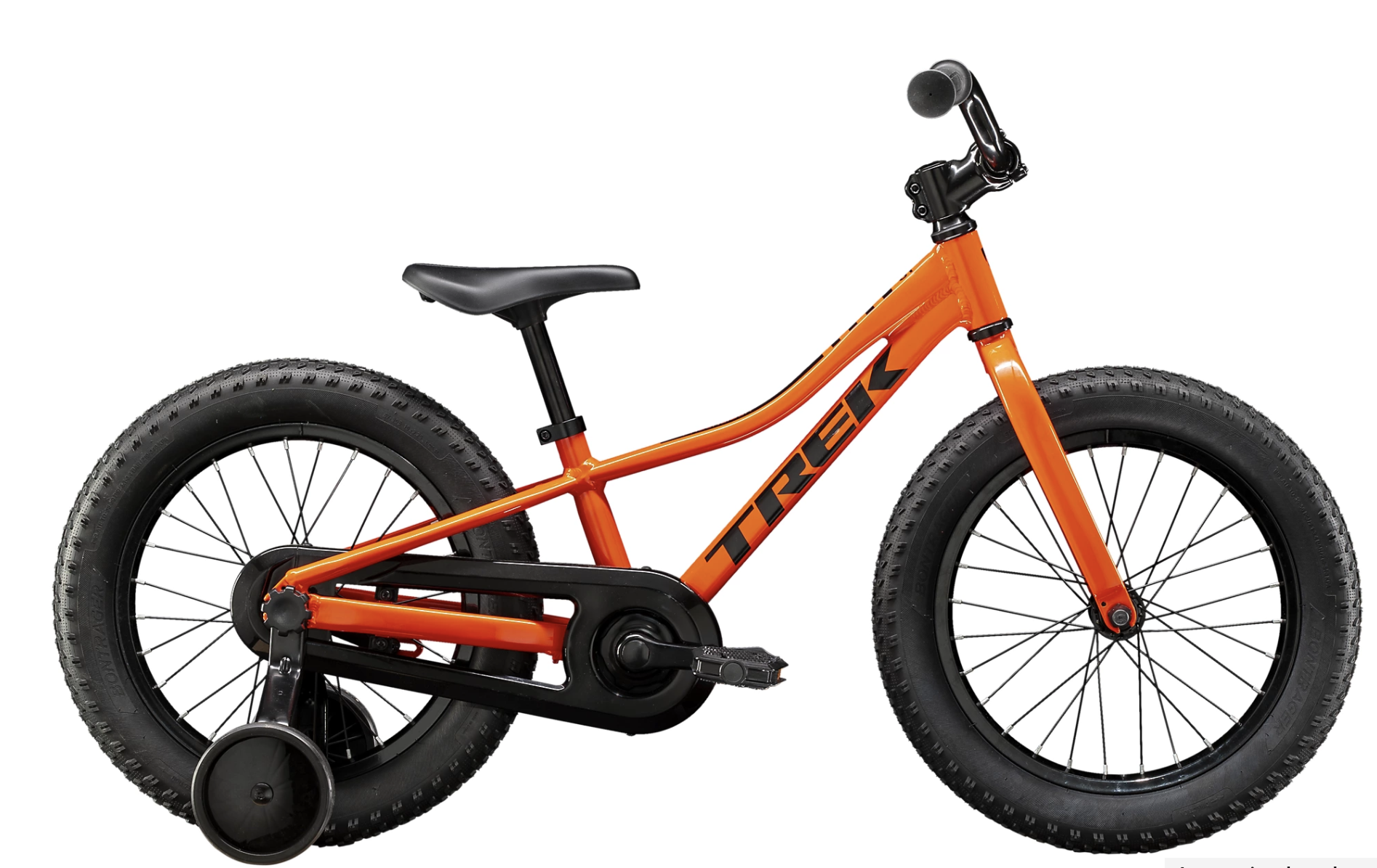 Trek Precaliber 16
20-inch-wheel Bicycles
Approximate range: ages 6 to 10 (depending on child's height and leg length)
Once you get to the 20-inch range, bikes start to come with more features - with the exception of cruiser bikes. Where cruiser bikes have coaster brakes, 20-inchers have hand brakes and begin to incorporate multiple gears. 
Choose the gearing:
Single-speed: These bikes are simple and easy to operate for kiddos just learning the ropes. However, these bikes can be challenging to climb with.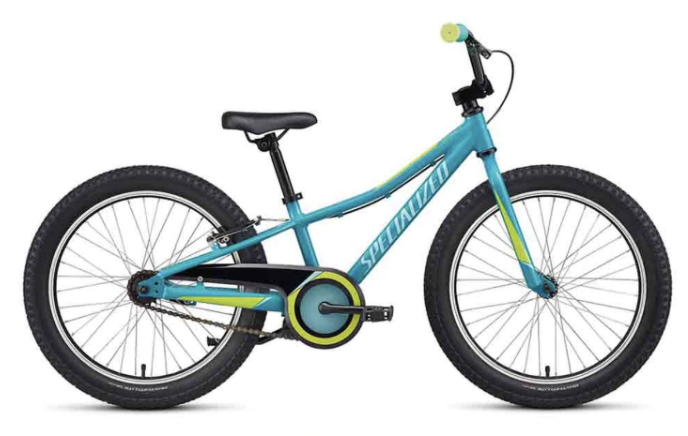 Specialized Riprock Coaster 20
Geared: Gears will alleviate some of the stress of going up hill, and will help your little one begin to pedal more efficiently. If you plan on riding in hilly areas, or want to take your child to the next level of riding, geared bikes are the next step.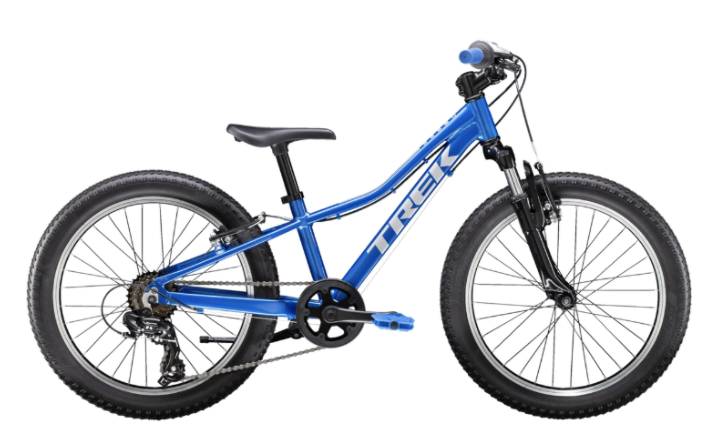 Trek Precaliber 20 7-Speed
Choose the style:
Mountain bike: Youth MTB's have wider tires with more traction and a front suspension fork to make it easier for kids to rock rougher terrain while still maintaining stability and without getting bumped around too much.  These bikes are perfect if your kiddo's looking to tackle the trails. 
Hybrid-style bike: Hybrid-style bikes are great "all-arounders", being able to handle most terrain. Much like the mountain bike style, these bikes also feature a front suspension fork, but have a much narrower tire.
24-inch-wheel Bicycles
Approximate range: ages 8 to 12 (depending on child's height and leg length)
24" bikes will feature very similar options and specifications to adult bikes. When looking in this range how your child intends on using the bike becomes equally important as how the bike fits. How they intend on riding it will play an important role in ensuring your child gets the perfect bike for them!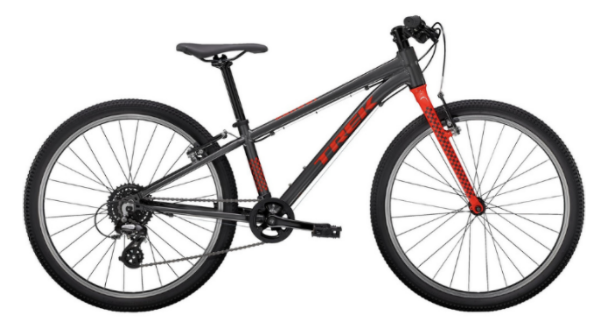 Trek Wahoo 24
Other Bike Shopping Tips
 Don't Forget the Helmet. The #1 accessory that no rider should leave without, old or young, and, much like a properly fitting  bike, it's equally as important to have a properly fitting helmet. Make sure your little one is stylish and safe, check out our full selection of kids helmets here.
 Test out the hand brakes. Make sure your child is able to easily reach and fully squeeze the hand brake.
 Make adjustments over time. When your child is initially learning, you'll start off with the seat low enough for their feet to reach the ground so they're able to catch themselves if they take a tumble. Over time, the seat should be raised so their tippy-toes touch the ground to allow them to pedal more efficiently and take some of the stress off the knees.