Step 1: Choose Your Helmet Style
Recreational/ commuter Bike Helmets 
Recreation/Commuter helmets are most likely what you think of when you think of a bike helmet at surface level. Equipped with all the essential  features to keep you and your loved ones safe on your next ride, recreational helmets are great for the casual rider.

Giro Caden MIPS Helmet
Mountain Bike Helmets
Mountain bike helmets  provide more coverage around the back of the head, as well as additional internal protection and comfort. These helmets are meant to keep you safe and comfortable on rougher terrain, perfect for the rider looking to tackle the trails and off-road adventures.
Half Shell Helmets
Half shell helmets are by far the most prevalent helmet style on the market today. Half shell helmets come in a range of options in terms of coverage and design – from minimalist, lightweight models with lots of venting, to  burly offerings with ample coverage for off-road exploration. Roadies and commuters are likely to prefer half shell helmets with added ventilation and less coverage in the back-of -head area, while mountain bikers will gravitate toward half shell "plus" styles with bonus protection in the back-of-head, temple, ear, and/or jaw areas for  extra protection on the trail.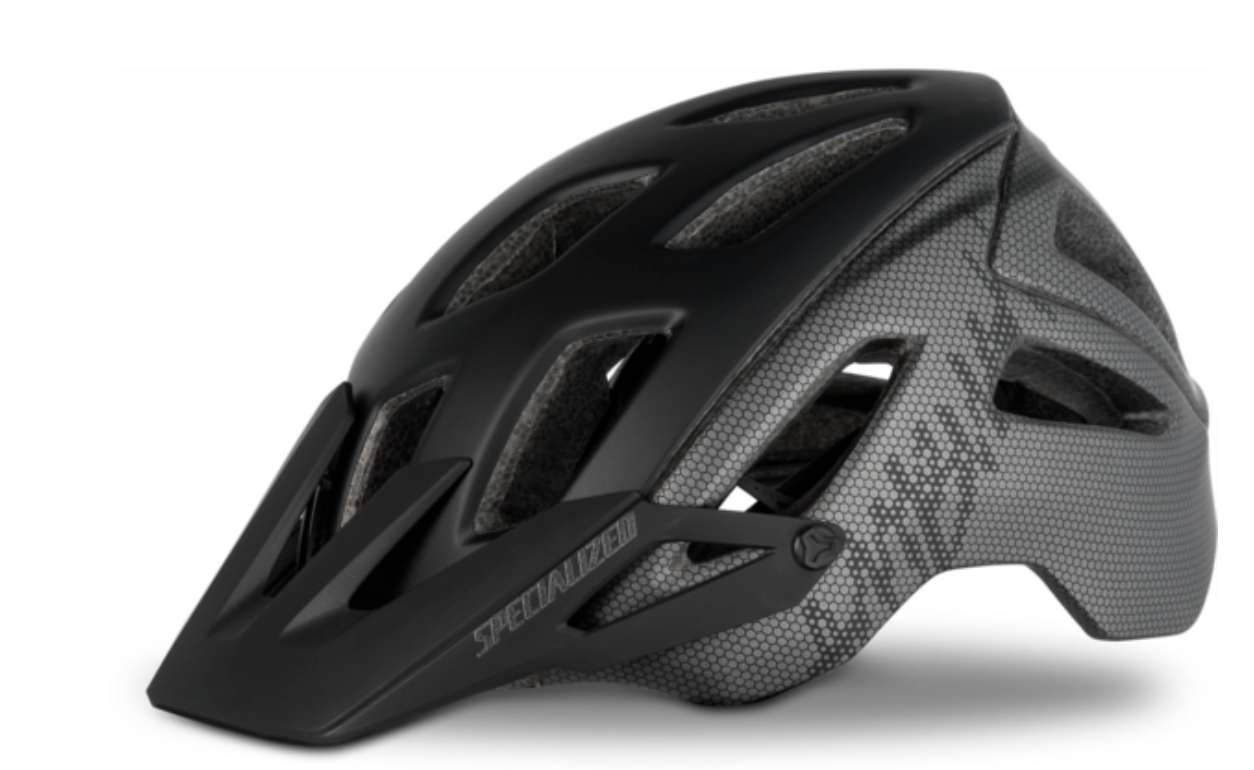 Specialized Ambush with ANGi Half Shell Helmet
Full Face Bike Helmets
Full face helmets offer the most complete protection on the market today. Consisting of a solid one-piece shell plus a full jaw guard, full face helmets offer ample protection but typically sacrifice on weight and comfort. Full face  helmets are most commonly worn by downhill mountain bikers who go big and fast with the chance of falling hard.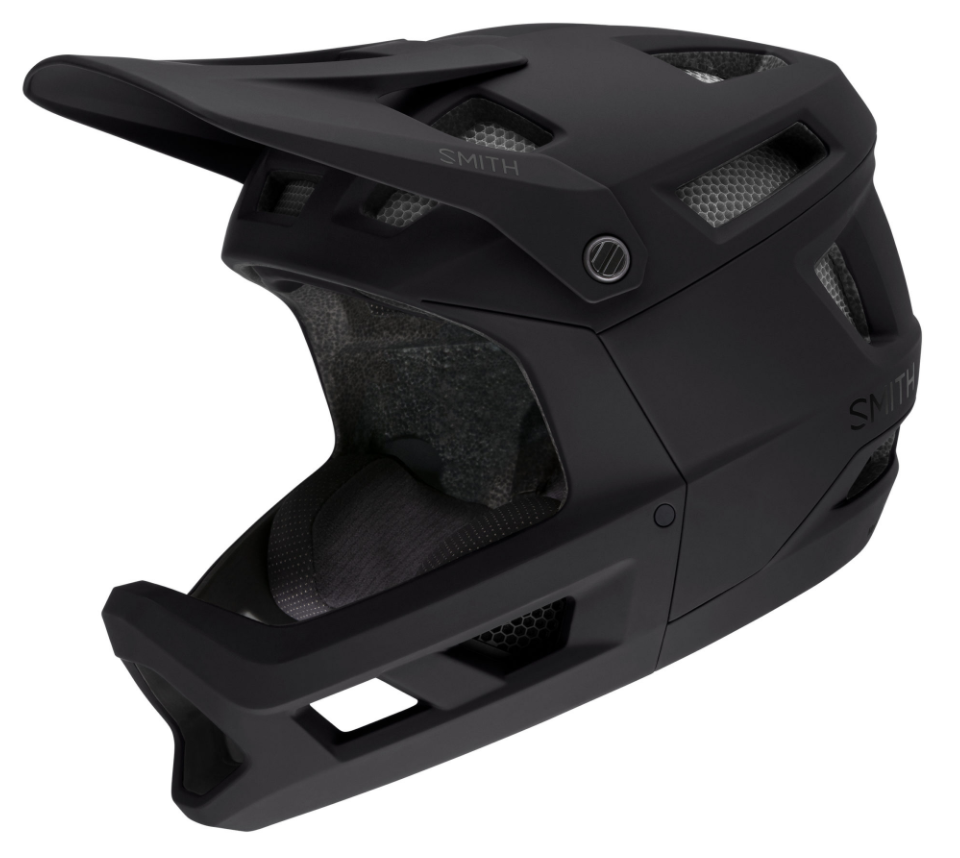 Smith Mainline Full Face Helmet
Road Bike Helmets
Road bike helmets are built as lightweight, breathable and aerodynamic as possible to allow you to be as fast and comfortable as possible. These helmets are made for cyclists who want to bike far, and fast.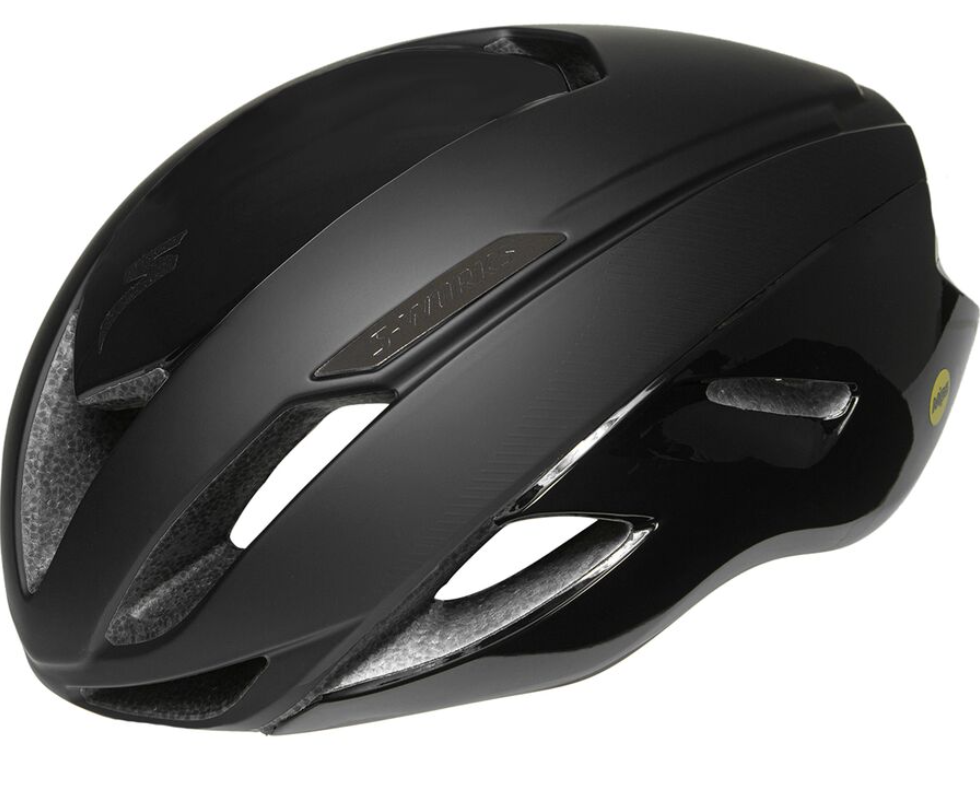 S-Works Evade with ANGi Road Bike Helmet
Choices in Helmet Protection
MIPS
Multi-directional Impact Protection System(MIPS) technology is available on helmets from numerous brands. The honeycomb low friction layer allows the impact-absorbing liner to rotate during impact to target key absorption areas and better protect that noggin.
Wavecel
Wavecel is Bontrager's protection technology, working much like MIPS to create a "crumple zone" designated to absorb primary impact and rotational energy from a fall.
SPIN
Shearing Pads Inside, or SPIN for short, is POC's protection technology. SPIN operates by utilizing specially placed silicon-injected pads , structured in such a way they are able to move about the shell to redirect rotational forces.
Helmet Materials Glossary
ABS (Acrylonitrile Butadiene Styrene)
Tough and impact resistant, ABS is frequently used to manufacture hard shell helmets. Did you play with Legos when you were a kid (or still do)? They're made from ABS too!
Aramid/Kevlar
The same stuff bulletproof vests are made of; aramid/kevlar can be used to augment bike helmets in strategic locations to ensure greater durability and protection.
Carbon Fiber
Extremely strong and lightweight, carbon fiber can be used to augment helmets while reducing weight. This can be especially attractive on full face mountain bike helmets that offer superior protection but weigh more than half shell helmets.
EPS (Expanded Polystyrene) Foam
EPS foam resembles the stuff old-school picnic coolers are made from. On impact, the foam gets crushed rather than your head. Unfortunately, EPS foam is single-use--it doesn't rebound after a crash. That's why you should always replace your helmet after a crash.
EPP (Expanded PolyPropylene) Foam
More commonly used on ski helmets, EPP is similar in appearance to EPS. EPP is a multi-impact foam that recovers its shape and most of its impact protection after a crash. It costs more than EPS and usually results in a helmet that is a bit thicker than one with EPS.
Honeycomb / Koroyd Straws
Koroyd Straws offer an alternative to the traditional foam helmet liner. They're formed in an extrusion process that creates an energy absorbent honeycomb-like structure. Koroyd Straws crush in a controlled manner, efficiently decelerating the energy from an impact.
Polycarbonate
A strong yet lightweight plastic, polycarbonate is used in the construction of the many current in-mold and hard-shell bike helmets. During the in-mold process, a polycarbonate shell is bonded to the liner resulting in an even stronger helmet.
Helmet Safety Standards and Tech
Helmets made in the USA must meet the US Consumer Product Safety Commission standard, so look for a CPSC sticker on any bike helmet you buy. Other safety standards include:
EN 1078
Field of Vision Test, Shock Absorption Test, Retention Systems Test

CPSC 1203
Peripheral Vision Test, Positional Stability Test, Retention Strength Test, Impact Attenuation Test

Snell B-95
Impact Management, Helmet Positional Ability, Retention System Strength, Extent of Protection.
ASTM F192
For Downhill MTB Helmets - Focuses on greater impact protection and provides performance criteria for chin bars on full face helmets.
Choices in Bike Helmet Features
ANGI
ANGi stands for Angular and G-Force Indicator. ANGi is a sensor that measures impact forces typically encountered during a crash. Based on the reading of this sensor ANGi can also call for help if you are unable to. Think of her as your guardian angel on the trails, just pair the sensor with the Specialized Ride App, (available for iOS and Android) and ANGi is ready to help.
Communication Features
Much like ANGi some helmets come equipped with wireless communication systems, some even more advanced than ANGi, allowing you communicate with other riders, make and receive phone calls and listen to music through the helmet itself.
Built-in lights and mounts
The last thing you want is to be out on the trail at night and not have a mount for a light, or taking the ride of your life and not capture good footage to be able to show off later. Luckily, as this demand increases so does the availability of helmets featuring built in mounts.
Visors
Many riders like having a sun shielding visor- they're common on mountain bike helmets.
Ventilation
Helmet vents enhance wind flow over your head, keeping you cooler and more comfortable as you ride. The more vents you have, the lighter the helmet, too.
Step 2: Bike Helmet Fit and Comfort
Make sure you get a helmet that fits correctly
A poor fit can compromise protection (and the will to wear your helmet), so get the right size and adjust it properly.
Follow these steps to figure out your correct helmet size
Measure your head circumference

Find a flexible measuring tape

Measure around the largest part of your head, generally right above your temples.

Note the measurement

Find your size based on the manufacturer's helmet specs

Helmet sizing differs by brand, each brand should include its own sizing chart for you to reference in order for you to find your perfect fit.

Knowing your size before shopping in store will allow you to better focus on helmets made for you and will help experts find you a helmet that fits you and you as a rider.

Most helmets come in S, M, and L.
How to Adjust a Bike Helmet
Adjusting the tightness

Buckling and adjusting the chin strap

The straps should surround each ear evenly forming the letter "V".

The helmet should press down firmly upon the top of your head.

The chin strap should press against the underside of your chin with enough slack to allow the mouth to easily open and close.
Additional Tips
Brand sizing varies: Much like with clothing, helmet sizing, shape and fit vary from brand to brand. Because of this its always good to double check head circumference against brand specific size charts, and talk to an expert in-store about what size and fit are right for you.
If you're between sizes, go with the smaller size. The snugger the better, you don't want a helmet that's too loose fitting lest it not offer adequate protection. If your helmet is a little on the loose side, cycling caps and beanies are great ways to improve the fit of any larger helmet.
A good-fitting helmet should be snug but not annoyingly tight. A well fitting helmet should sit square on your head with the front approximately one inch above the brow. To test the fit, situate and fasten it as you would before a ride and try to move it around on your head. If you can move the helmet substantially (one inch or more), this is an indicator you need a smaller size, or to adjust the size via the dial located on the back of the helmet.
Bike Helmet Care
Avoid using chemical solvents to clean a helmet
Most removable pads are machine washable, and helmet exteriors can be washed with a soft cloth, mild soap and water. Harsh solvents may damage the integrity of the shell.
Heat can be damaging
Storing a helmet in any environment that can accumulate excessive heat (I.e. garage, car, or attic) can cause bubbles to form on the helmet, compromising its integrity. If you think your helmet could be heat damaged, begin the hunt for a new one, heat damaged helmets are not safe. 
When to Replace a Helmet
Bike helmets are designed to absorb a single impact
When you take a spill, your helmet takes a spill, and just the same as you may acquire some bumps and bruises your helmet will do the same. Always assume that a helmet that has taken a tumble has sustained some damage, and to be safe rather than sorry invest in a new one.
As a general rule, helmets should be replaced after 5 years
Even if you've stayed crash-free, environmental factors such as harmful UV rays, and general weathering can compromise your helmet over time.