At the end of the '21/'22 season, we said goodbye to a cult classic in the ski world. In its relatively short time on the market, Full Tilt grabbed the hearts of freestylers and free riders alike - so what now?
If you've been in the ski world for a while when you think of Full Tilt boots you probably think of your favorite freestylers or your local parkie. But what if I told you that in 1984 Bill Johnson won the first Olympic gold in men's downhill for the U.S on "Full Tilts"? Or that NASA engineers played a part in designing the boots' iconic 3-piece construction? Over the years, the boot we've come to know and love has gone through many stages of evolution, solidifying it as a true classic and always keeping it ahead of its time.  
Part I: In the Beginning, Raichle Created the Flexon 
The first iteration of what we now think of as the 'O.G Full Tilt shaped' boot emerged on the scene in 1980. Designed by ex-pro ski racers and NASA engineers to create a high flex performance boot without compromising comfort or lifelong integrity of the shell – the Raichle Flexon Comp delivered gold. The Flexon was the boot of choice for many professional skiers, including Bill Johnson, who won gold in men's downhill, and Maria Walliser, who took home silver in the women's downhill. By the mid-'80s, the Flexon series were some of the most popular boots in the professional circuit due to their unique design that married performance with comfort. Unfortunately, after being passed through multiple hands, the company struggled throughout the '90s and ultimately ended production of Raichle boots in 2001.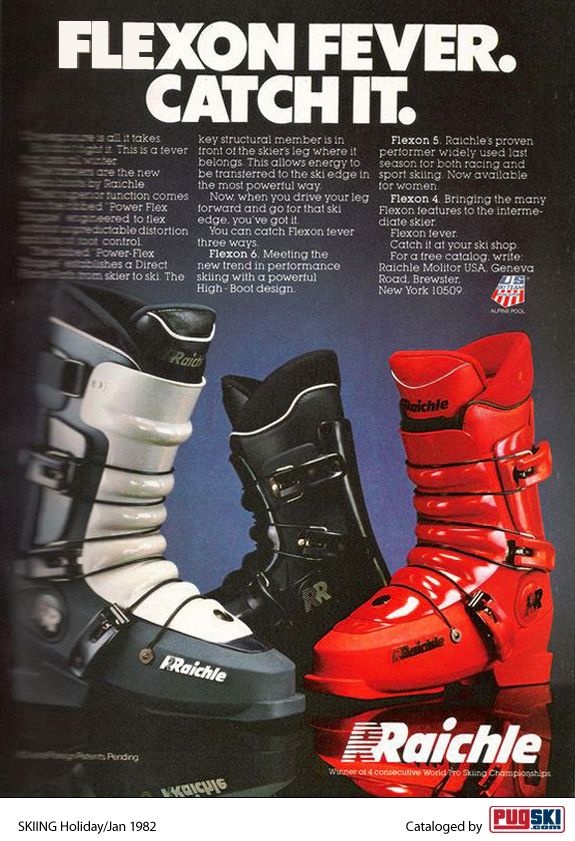 Raichle's Flexon Fever Poster circa 1982 
Part II: Rebirth 
In 2004, K2 bought the rights to the Raichle 3-piece design and in 2006 Jason Levinthal (now of J Skis) brought Full Tilt to life. Over the years the brand steadily grew in popularity and gained traction with a wide variety of skiers due to its breadth of models. The Dropkick provided stability with a forgiving flex for freestyle skiers, while the First Chair provided a higher flexing performance boot with all-day comfort for the all-mountain skiers. Later in the evolution of Full Tilt, they even developed their own touring boot, the Ascendant, as well as a women's line, featuring a women's specific mold of the classic shell design (Soul Sister's) yet again exemplifying their range and ability to adapt to overcome whatever challenges their skier may face. Because of this adaptability and dedication to its consumer, Full Tilt gained a cult following over its lifetime as a brand. However, after the '21/'22 season we once again said farewell to these boots as we know them.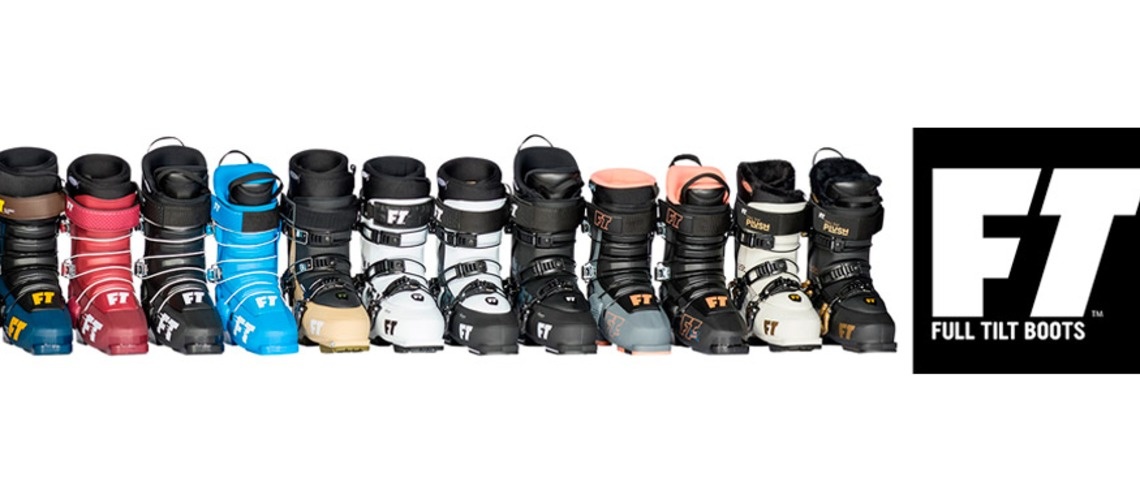 Full Tilt 2019 Product Lineup Poster 
Part III: Rebrand // The Full Tilt Riders Guide to K2  
As we approach, and anxiously await the '22/'23 season, the 3-piece-design once again got a revamp – proudly displaying 'K2' across the shell rather than 'FT'. Now, if you're a long-time Full Tilt rider, don't panic, K2 has always been the manufacturer of Full Tilt, so we've still got all your favorites – they just look a little different!  
...Without further ado, here is the Full Tilt Riders Guide to K2 in 2022: 
 

If your go-to boot was the Dropkick, you're now looking for the Revolver.  

 

Dropkick -> Revolver

Dropkick Pro -> Revolver Pro 

Dropkick S -> Evolver  

 

 

If you previously rode either the Descendantor Plush, you'll love the Method family. 

 

Descendant 90 & 100 -> Method & Method Pro 

Plush 70 -> Method W  

 

 

For our all-mountain skiers, if you were used to either the First Chairor Soul Sister K2 has made the Revolver Team and Revolver Pro Women's  

 
You may notice some big names missing from this list, but fear not freestyle enthusiasts! All former Full Tilt pro model boots (Such as the Tom Wallisch Pro, B&E Pro, etc) will be available through K2 as well. So, while we'll miss the iconic Full Tilt branding, get excited for the new K2 era, these boots are as comfortable as ever and will unlock your mountain's potential like never before.