Mon-Fri 9-7pm, Sat 9-5pm, Sun 11-5pm | 218-724-8525 | 1032 E 4th Street, Duluth MN 55805 |
[email protected]
Login
Log in if you have an account
Register
Having an account with us will allow you to check out faster in the future, store multiple addresses, view and track your orders in your account, and more.
Create an account
Road Bike Buying Guide
Before embarking on your search to invest in any new bike, there are some key questions a rider should always ask themselves: 
What style of bike do you ride now?
What style of bike do your friends ride?
What is your budget?
Bikes can get expensive fast, a good road bike could range anywhere from $1,000 all the way up to $10,000. When planning your budget it's also important to include accessories such as the appropriate bike shoes, helmets, and basic repair kit, so that any bike you choose gives you the most enjoyable ride possible. 
Road Bike Features
What sets road bikes apart from other bikes? Here's a quick rundown on what sets road bikes apart from other styles of bike. 
Features
Lightweight frame, wheels and components allow for faster speeds

Most road bikes have what is called a 'drop' handlebar (curled) although some may have a flat bar.

Narrow wheels and tires.

A carbon fiber front fork.

Rigid meaning they contain no front or rear suspension

Available in men's and women's specific sizes and styles. 

Functions
Intended for fitness enthusiasts, event riders and competitive riders.

With the exception of grave/adventure style 'road bikes' these bikes are designed for paved surfaces.

Allows riders to go farther and faster.

Though not typically designed to carry heavy loads, road bikes are suitable and can be used for (vehicle-supported) mutiday tours.

Types of Road Bikes
Adventure Road Bikes
If you want to do more than just pound the pavement, or are looking for the right bike to take you on your next adventure, it sounds like you need an adventure or gravel bike!
These bikes hold the rider in a similar upright positioning to an endurance bike but drop them down a bit. Overall, this lower fit lowers the riders center of gravity offering them more stability when terrains get rough. These bikes roll on wider tires allowing your to grip and grab the terrain through any conditions. Adventures don't always take place on the smoothest surfaces, which is why bikes made for adventuring often feature vibration-dampening technology so you can destroy your ride without your ride destroying you. Aside from these specifications, gravel/adventure bikes are often made of a heavier steel frame rather than the lightweight steel alloy, aluminum, or carbon frames of an endurance bike, added weight means added stability allowing you to feel confident and in control in the saddle. Finally, many adventure bikes include fittings for racks and fenders so you can easily stow tools for the trail or commute.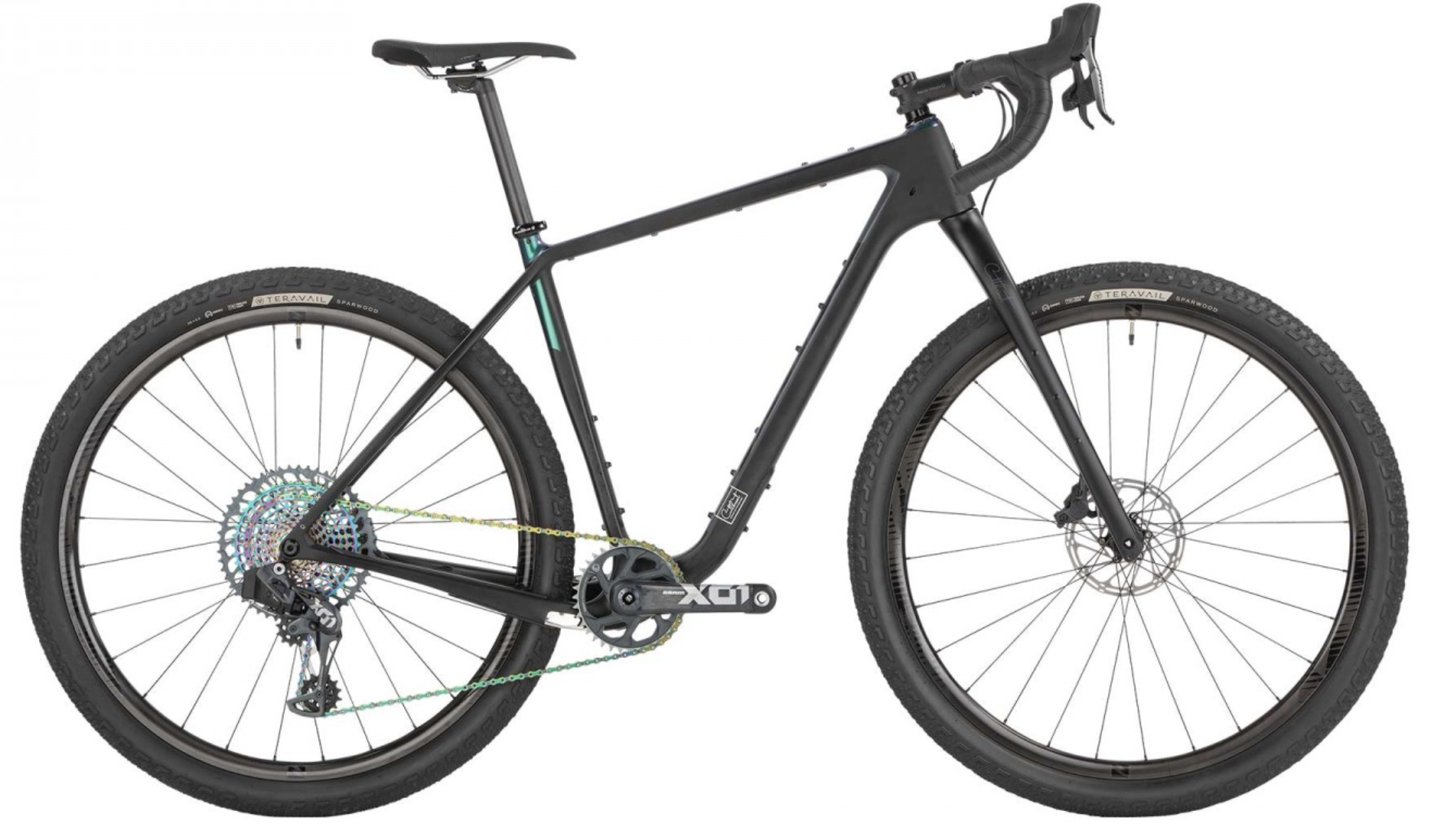 Salsa Cutthroat Adventure Road Bike
Endurance Road Bikes
Endurance bikes are bikes engineered for paved surfaces, built to make for the smoothest ride possible. On top of vibration-dampening engineering these bikes also hold the rider in a position so as to optimize speed while also reducing the strain placed on the back, neck, and shoulders. This relaxed positioning and ability to make even the longest of rides seem comfortable and achievable make endurance bikes popular amongst experienced and novice riders alike. 
Mechanically speaking, a longer wheelbase makes maintaining straight-line stability much more doable. This is achieved by placing the front wheel out slightly so as to place the control of the bike in the rider's hips rather than the direction of their eyes. A longer wheelbase also means a longer distance between road and rider, and allows for vibrations to be majorly absorbed  before reaching the rider. 
Endurance road bikes and adventure road bikes have very similar geometries and many people use the bikes interchangeable between the two riding styles.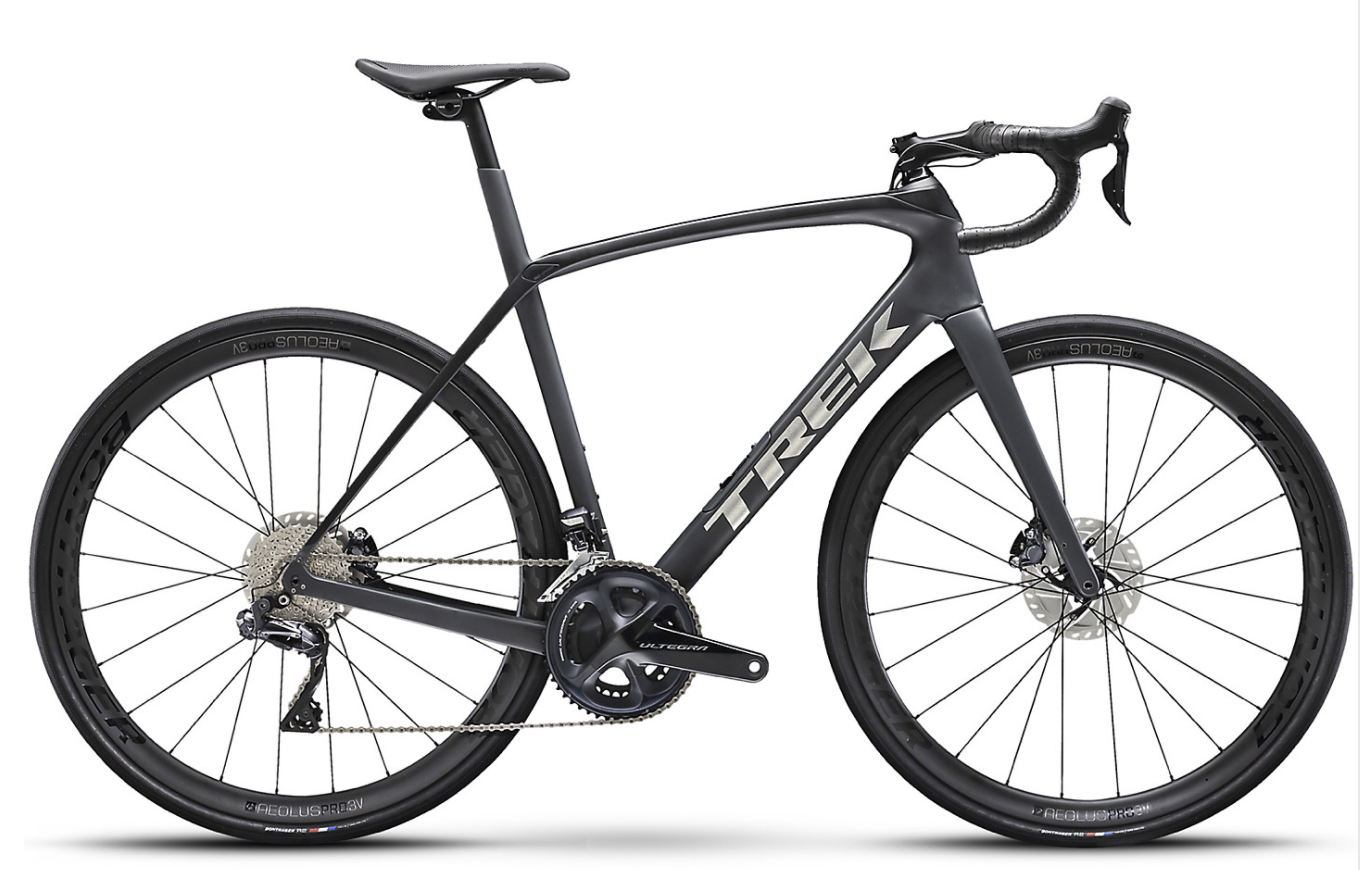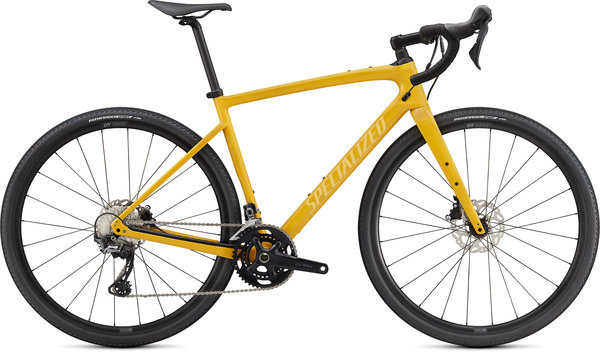 Trek Domane Endurance Road Bike vs Specialized Diverge Adventure Road Bike 
Performance Racing Road Bikes
Performance bikes, or road racing bikes, are the pinnacle of speed when it comes to road bikes. These bikes seamlessly transfer the riders effort into the bike to generate speed. Furthermore, these bikes are rigid, allowing the rider to lean into turns and efficiently shift weight when needed, this rigidity reduces the potential for power loss around turns so you can keep your speed up throughout every twist and turn a race throws at you. As for body position these bikes hold their rider in an aerodynamic and efficient position so you can capitalize on every hundie'. 
With great speed comes great responsibility, these bikes demand very precise control, boasting steep head tube angles which tucks the front wheel underneath the rider's upper body which makes for very responsive steering. The shorter distance between the wheels also complements this need. All of this adds up to a swift, responsive ride.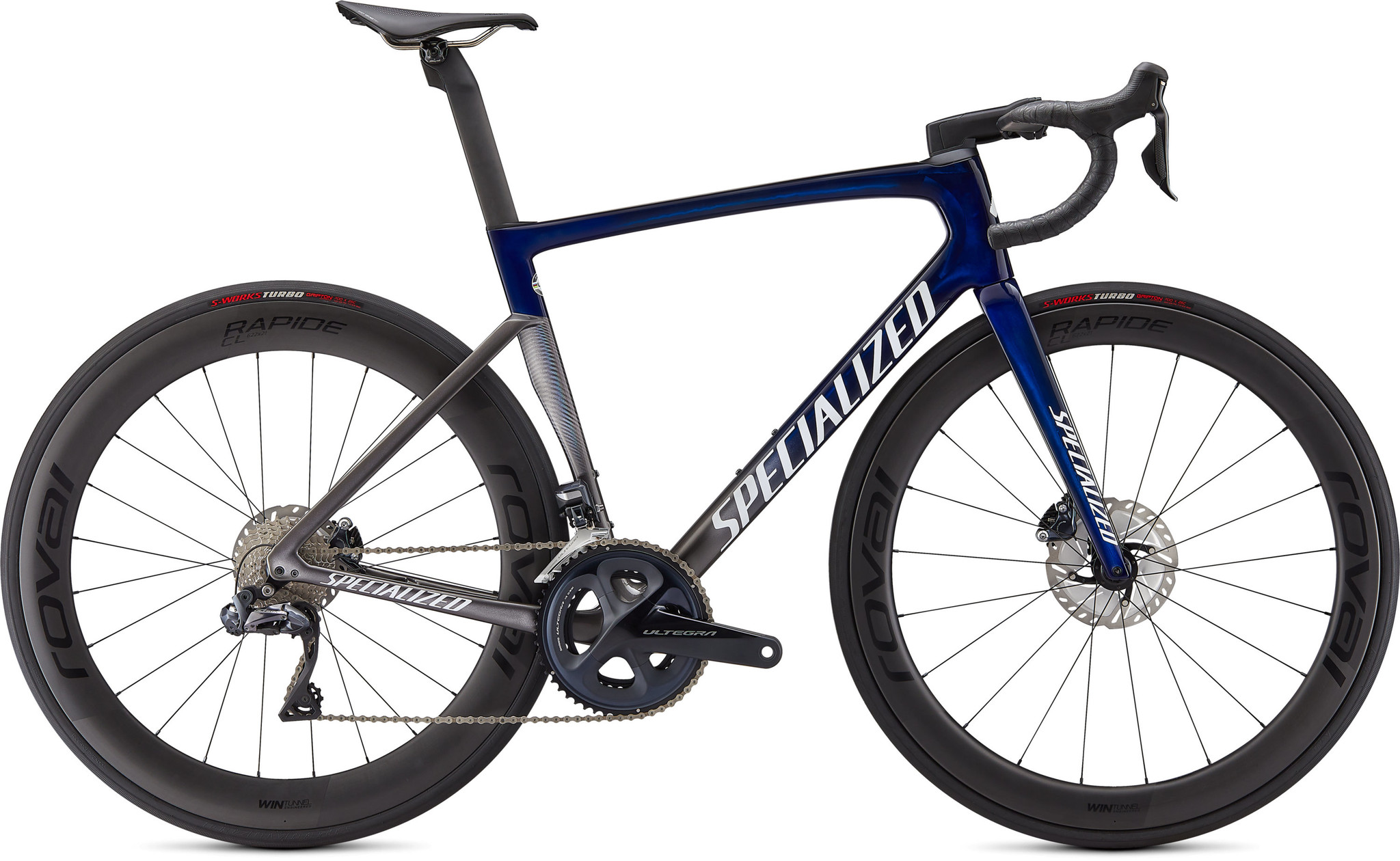 Specialized Tarmac SL7 Performance Road Bike
Cyclocross Bikes
A cyclocross bike is a hybrid of a performance bike and a gravel/adventure bike. These bikes hold the rider in the more aggressive body position typical of a performance bike, mounted on the wide sturdy tires of an adventure bike. This combination gives the rider optimal traction and allows the rider to build speed on gravel. However, while these bikes are maneuverable, responsive, and quick on gravel, their rigidity and lower gear range tends to hold them back on the open road.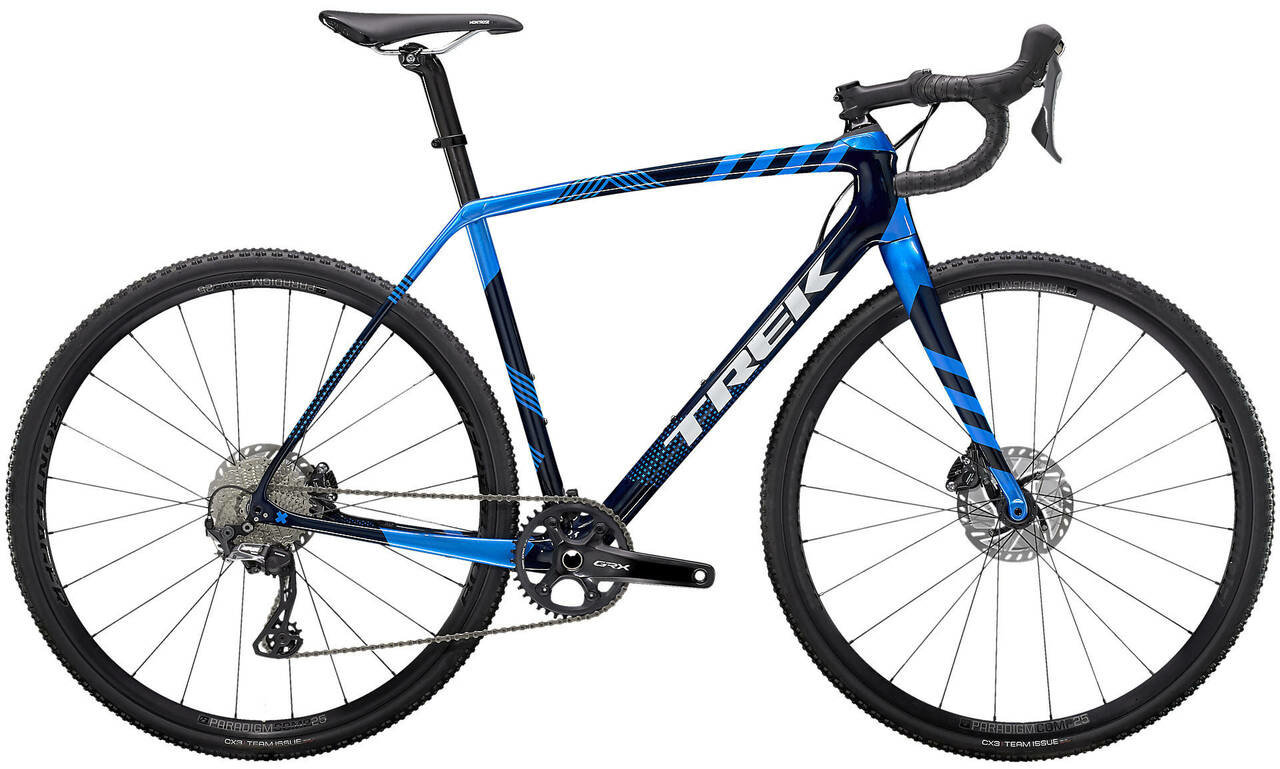 Trek Boone Cyclocross Road Bike
Triathlon Bikes
Triathlon bikes are for the hard- core cyclists, they are the rockets of the bike world. These bikes are aerodynamically designed and hold the rider in an aggressive position allowing them to seemingly slip through the air, and strategically targets muscle groups not used in the other triathlon events. These bikes are perfect for people who want to go fast and don't mind trading a bit of comfort to do so, however they are not for everybody, these bikes require above average flexibility and riding discipline.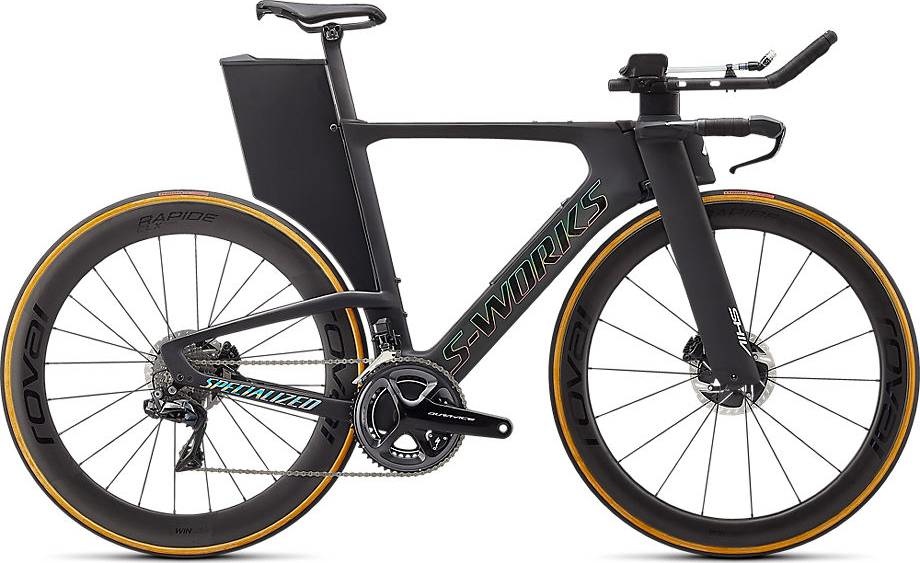 S-Works Shiv Triathlon Road Bike
Frame Materials
Your primary frame choices are aluminum or carbon fiber.
Aluminum Frames
Often the more affordable of the two frame materials, aluminum frames provide a smooth ride and most will include a carbon fiber fork in order to offer additional vibration-absorption. 
Carbon-Fiber Frames
 A small step up from an aluminum frame, and often a bit more expensive is a carbon-fiber frame. Carbon-fiber frames emphasize rider comfort by offering the rider the smoothest ride possible, featuring more extensive vibration-dampening than an aluminum frame. However, rides can vary based on the specific frame, so don't assume superior results. 
Key Bike Components
This refers to all of the parts that are attached to a bicycle frame. Major components include:
Drivetrain (crankset, rear cassette, chain, derailleurs, brake levers, gear levers).

Wheels (rims, hubs, axles, spokes).

Brakes, handlebars, seat and seatpost, pedals.

Cranksets and Gearing
Bikes will come complete with the gearing setup to best match the style of riding that specific bike was designed for. Where road bikes of yesterday were known popularly as 10-speed bikes, the road bikes of today often include anywhere from 9 to 12 gears. Although, again, this number is dependent on what style of riding the bike was developed for and therefore will vary across differing styles. Ask one of our experts what gearing setup will best serve you!  
Wheels
Wheels have a major impact on the following:
The weight of the bike.

How well a bike accelerates and carries momentum.

Bike aerodynamics and handling in wind.

Buying tip: A wheelset upgrade is widely considered the best return on investment for decreasing bike weight and increasing its responsiveness.
Pedals
A common question from those shopping for a road bike: "Where are the pedals?"
Most high end road bikes do not come with pedals based on the assumption that the rider already has a preconceived pedal preference.
If you're wondering what type of pedals best suit your style of riding you can check out our full Pedal Buying Guide 
Getting the Correct Frame Size
As is the case when looking to purchase any bike, making sure that you get a road bike that fits you correctly is the most important aspect. A bike that is fitted to you is a bike that will make you a better, more confident rider, and most importantly, you'll love riding it! 
Learn more about Bike Fitting from our expert BikeFit technicians! 
Road Bike Sizing 
Many road bikes come in standard sizes (S, M, L) and are generally similar across brands. However, much like clothes each brand's sizing is a bit different and will often offer their own sizing chart. For a general understanding of road bike sizing you can refer to the diagram below or check out our full Road Bike Sizing Guide for more details.
At the Bike Shop
Stop on By! 
Our experts are here to help you ensure that you find a bike that fits you and your riding style. You want to be able to put miles on your bike the same as you put miles on your car, so shouldn't you take it out for a 'test-drive' first? We think so. Stop by our shop and our experts will help you narrow your search and demo your favorites so you can leave knowing you got a bike that you love, and that's right for you as a rider. 
Getting Out There
Getting involved with local cycling groups or clubs is a great way to introduce yourself to cycling if you're new to the field, or if you're an experienced cyclist, to push yourself to get better. Either way it's a great way to build community! Whether you ride with a group or prefer to fly solo, whether you are out there for 30 minutes or all day, it doesn't matter just have fun! 
If you are looking to get involved with the cycling community, here are some people in the greater Duluth area that we think are pretty cool. 
Have Fun!