Mon-Fri 9-7pm, Sat 9-5pm, Sun 11-5pm | 218-724-8525 | 1032 E 4th Street, Duluth MN 55805 |
[email protected]
Login
Log in if you have an account
Register
Having an account with us will allow you to check out faster in the future, store multiple addresses, view and track your orders in your account, and more.
Create an account
Mountain Bike Buying Guide
We're drawn to the trail for all sorts of reasons, whether it's to chase that rush of speed, to push our limits or to simply escape the daily grind. No matter your motivation, you'll find a bike here that puts a grin on your face, from ultra-light XC machines and do-it-all trail bikes to gravity-racing speed sleds.
How to Choose a Mountain Bike
Bike style: Different riding styles require different bike styles, so your first consideration is where and how you plan to ride(forest roads, easy going off-road, racing, aggressive trail riding)
Key features/ Components:
Suspension
Wheel Size
Frame Materials
Gearing
Brakes
Thru axle vs Quick Release
Last, but not least, be sure your bike fits you well. The more you plan on sitting and pedaling, the more important a good bike fit is. This is best done in person at a bike shop.
Types of Mountain Bikes
So what's the deal with all these mountain bike styles these days? While there are plenty of different terms manufacturers use to describe their bikes, there are 4 basic types: Cross Country (XC), Trail, All Mountain (Enduro), and Downhill (DH).
Cross-Country (XC) Mountain Bikes
Cross country mountain bikes are built for riders who want pedaling performance as their top priority. These are machines bred for endurance and efficiency. The geometry of cross-country bikes is the most similar to road bikes. The focus on efficiency and lightweight doesn't come without tradeoffs, however, cross country bikes trade out downhill performance for efficiency and weight. Cross country mountain bikes are great for riders that are going to put in long miles pedaling, those who prioritize climbing over descending and easy going riders who just want to explore.
Modern XC bikes are trending towards the largest mountain bike wheel size, 29". This is the same rim diameter as the 700c road bike size.
Ultra-lightweight builds (less than 24 lbs. in some cases) with 4.7"/120mm or less of travel make for the lightest mountain bikes you'll see anywhere.
Hardtails (front suspension only) can be preferential in this category in some cases.
Longer chainstays & wheelbases, steep head angles (69° or steeper) as well as longer stems put riders in efficient climbing positions.
Tires on these bikes are likely to favor reduced weight, increased efficiency and lower rolling resistance rather than traction, control or durability.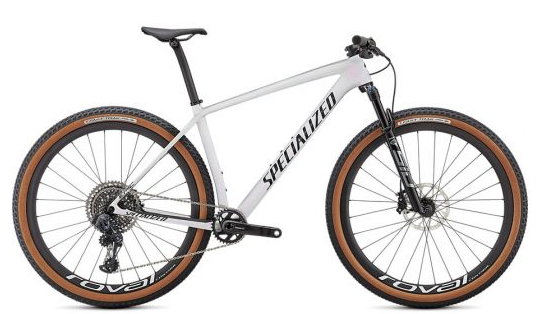 Specialized Epic Hardtail Pro
Trail Mountain Bikes
This category is what most people relate to when they think "mountain bike." Trail bikes are the Swiss army knives of mountain biking and are both great climbers and capable descenders. Trail bikes add more suspension, more gravity oriented components (like chunkier tires for better traction and bigger brake rotors) and more relaxed geometry than their XC brethren to make them more capable on all kinds of terrain. Do you see yourself on all-day backcountry epic rides as well as banging around town and your local trails? Do you measure your rides in grins and smiles rather than seconds? If you're into mountain biking uphill just as much as downhill, are looking for the occasional drop or jump, or a beginner rider looking to expand and improve, a trail bike is probably what you're looking for.
Trail bikes come with 27.5" or 29" wheels. Suspension can be anywhere from 4.7"/120mm to 6"/150mm of travel (front and back).
Trail bike geometries are typified by "neutral" head angles (66° or 68°) but vary widely to suit different riding styles.
Tires on trail bikes will strike a balance between durability, traction and rolling efficiency.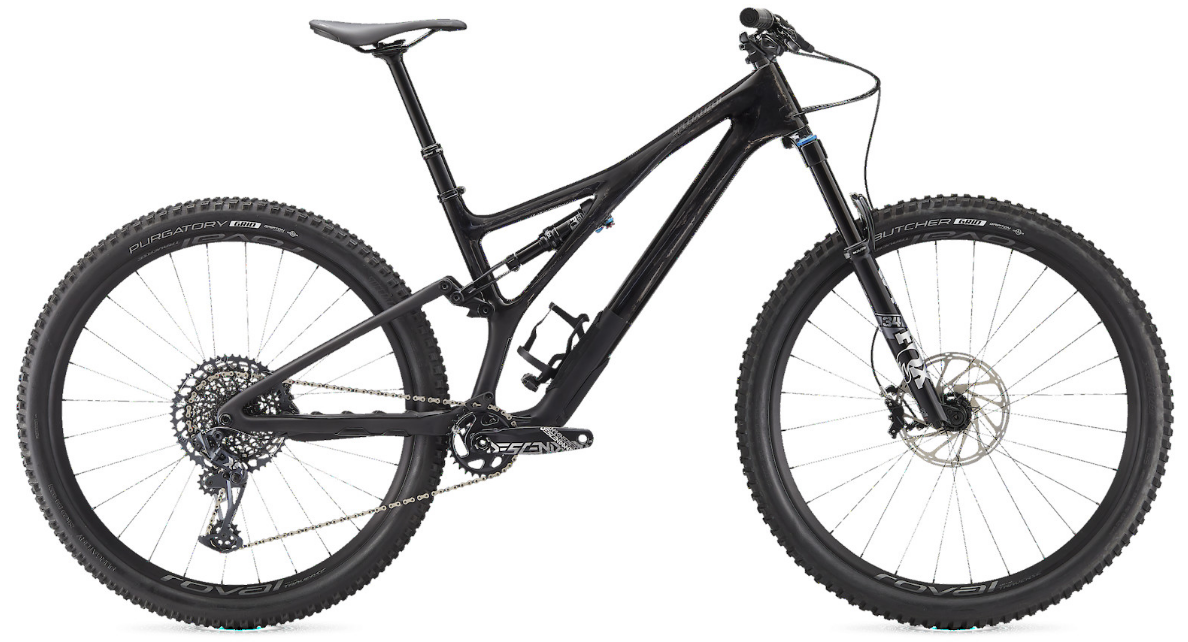 Specialized Stumpjumper Expert

All Mountain or Enduro Mountain Bikes
You could call this category the burly cousin of the trail bike. All-mountain bikes are the centerpiece of the race format called "Enduro," where climbing is necessary, but only the downhill sections are timed and scored on. An all-mountain or enduro mountain bike is the perfect rig if you're willing to earn your ride by pedaling up, but are really in it for the downhill with technical terrain and airtime in mind. That being said, if you want to skip the pedaling and do a couple of laps at a bike park or even some shuttle accessed terrain, an all-mountain bike can handle that too.
Enduro mountain bikes come with 27.5" or 29" wheels, or even mixed "mullet" sizes with 29" in the front and 27.5" in the rear.
All-mountain bikes have slightly more suspension travel than trail bikes, ranging from 5.5"/140mm to 6.7"/180mm.
Geometry strongly favors descending to climbing. Head angles in the 65°- 67° range can require some finesse when it comes to steep climbs.
Long wheelbase and reach, low bottom bracket and slack head angle are key terms when talking about modern all mountain/enduro geometry.
Tires on all mountain bikes are likely to favor aggressive knobs for cornering and traction since the important part of the ride is gravity assisted.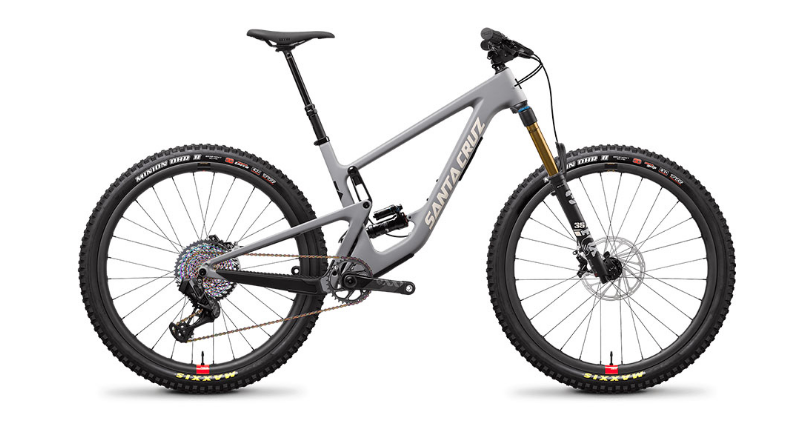 Santa Cruz Hightower XX1 RSV
Downhill & Freeride Mountain Bikes
Downhill bikes are designed for steep, gnarly terrain, speed, big drops and jumps. With these bikes, you're usually looking for some other way to the top of the trail whether that's hiking, shuttling or a chairlift. They simply aren't made to go any direction but down. If you're not even remotely interested in pedaling uphill, have the trails & terrain to support high speeds and airtime and the skill level to handle yourself in these situations, a downhill bike is what you're looking for.
Burly frames sporting 6.7"/170mm - 10"/250mm+ of suspension travel in the rear and 7"/180mm - 8"/200mm in the front with dual-crown forks that resemble something you might see on a motorcycle.
These bikes tend to be extremely slack (less than 65° head angle) and sport a very low center of gravity (bottom bracket) for confidence on steep terrain and aggressive, brown-pow roosting corners.
Tires on downhill bikes are geared for traction and durability with 2-ply (think double-thick) casings for traction and durability.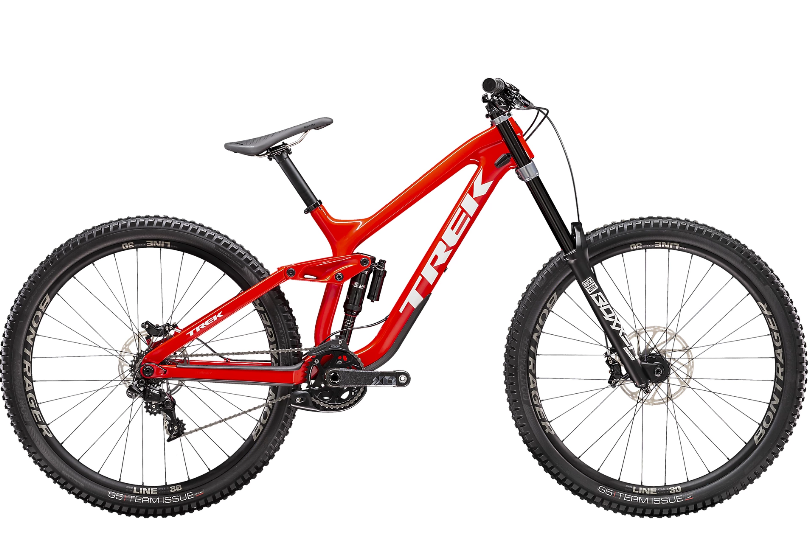 Trek Session 9.9 29
Mountain Bike Features and Components
Suspension
Rigid: Not the most common type of mountain bike, "rigid" mountain bikes don't feature any suspension. They are easy to maintain and usually less expensive, but most riders prefer bikes with suspension for greater comfort. Most fat-tire bikes are rigid because riders find that the wide tires and low tire pressure provide all the squish needed to absorb bumps on the trail.
Hardtail: These bikes have a suspension fork in the front to help absorb impact on the front wheel, but the rear of the bike has no suspension—ergo a hardtail. Hardtails are typically less expensive than full-suspension bikes and have fewer moving parts (which often translates into less maintenance). Most hardtails have the ability to lock out the front fork for times when a fully rigid bike is desired.
Cross-country riders typically gravitate toward hardtails as these bikes allow more direct transfer of power between the pedal stroke and the rear tire. Hardtails can also be at home on all-mountain trails, and the lower cost and easier maintenance make them a solid option for everything except serious lift-serviced downhill trails.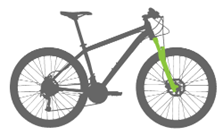 Hardtail Mountain Bike
Full suspension: There are many variations of full-suspension bikes, but the general idea is for the front fork and rear shock to absorb the impacts of the trail. This drastically reduces the impact on the rider, increases traction and makes for a more forgiving and enjoyable ride.
A full-suspension bike can soak up a lot of a trail bumps and chatter, but the bike can also "bob" a bit and you lose some of the energy transfer when climbing uphill. As a result, many full-suspension rigs have the ability to lock-out the rear suspension to offer better power transfer and more efficient climbing.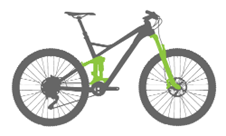 Full Suspension Mountain Bike

Mountain Bike wheel size
29ers: These bikes feature 29 in. wheels that are a little slower to accelerate, but once you start moving you can conquer considerably more terrain far easier than on a bike with 26 in. wheels. They are more efficient for longer rides as they keep their momentum up and they have a higher "attack angle," meaning the wheel rolls over trail obstacles easier. These bikes have become extremely popular for the cross-country crowd. 29ers can be found in rigid, hardtail and full-suspension rigs.
27.5 in. (650b): Offering a middle ground between standard 26 in. wheels and 29ers, these bikes apply a "best of both worlds" solution, more easily rolling over terrain than the 26ers, but more maneuverable than 29ers. 27.5 in. wheels can be found on both full-suspension and hardtail rigs.
27.5+ in.: The plus symbol simply indicates extra-wide wheels and tires, typically 2.8 in. or more in width. Wider tires offer a more comfortable and more forgiving ride. They also encounter less rolling resistance, so the trend is for bikes to have wider wheels and tires these days.
24 in.: Kids' mountain bikes typically have 24 in. wheels to accommodate the shorter legs of children. Most are less-expensive versions of adult bikes with simpler components. Generally speaking, these suit kids ages 10 to 13, but this depends more on the size of the child than the age. Younger/smaller children can get started on mountain bikes with 20 in. wheels.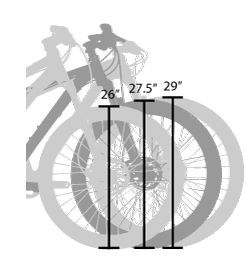 Mountain Bike Frame Materials
Aluminum Alloy: Aluminum is the most commonly used material for mountain bike frames. Some more-expensive models have lighter aluminum frames as a result of the manufacturer expending more dollars and effort in the selection of materials, tubing design and the manufacturing process.
Carbon Fiber: Carbon fiber is an excellent material for building a bike for two main reasons. One, it has incredibly high strength and stiffness to weight ratios. Second, unlike steel or aluminum, it can be manipulated in almost endless ways. This means a frame can be made incredibly stiff in specific areas or directions, like areas that impact turning pedal power to moving you forward. It also means a frame can be made to have forgiveness in other areas to reduce trail vibrations and impacts from reaching the rider.
Steel: Steel has a high strength and durability rating, and its properties generally yield a very comfortable riding bike. Of three materials listed here, it's also the heaviest, which is why you don't find as many mountain bikes made from steel today.
Mountain Bike Gearing
The number of gears a bike has is a result of the number of front chainrings multiplied by the number of sprockets on the cassette. Mountain bikes are available with everything from a single speed to 30 or more gears. When you factor in the many combinations of chainrings and cogs and the numbers of teeth on them, things can get complex.
To keep it simple, the most important things to consider are your fitness level and the terrain you'll be riding. If you'll be riding lots of steep hills and you find climbing challenging, then you'll want to opt for more gears. If you're a strong mountain biker or you only ride flat terrain, you won't need as many low gears to power up a hill so you can get away with fewer gears, which will also help keep your bike light.
Modern mountain bikes will come with either 1,2, or 3 chainrings on bikes. Entry level mountain bikes will sometimes have 3 chainrings, also known as 3x setups, but these are gradually becoming less common due to weight and shifting complexity which causes confusion. Two chainrings, also known as 2x setups, are a lot more common on entry level bikes due to lighter weight and more simplicity than a 3 chainring setup. The best mountain bike chainring setup is a single chainring up front, also known as a 1x setup. This setup is less complicated than 2 or 3 chainrings, and also allows a rider to easier use of their left hand to operate a dropper post. A 1x setup up will come standard on all mid to high end mountain bikes as well as some entry to mid-level mountain bikes. 1x setups will also have a rear derailleur with a clutch to keep the chain from dropping while you're out on the trail. 3x and 2x setups will not have this because of the front derailleur.
Keep in mind that bike gearing is fairly easy to modify after you buy a bike, so it doesn't need to be your primary concern when choosing a bike.
Mountain Bike Brakes
There are two categories of brakes for mountain bikes. Disc brakes have replaced rim brakes on all but entry-level mountain bikes.
Disc brakes: These feature brake pads that grip onto a brake rotor mounted to the wheel hub. Disc brakes come in two versions:
 Hydraulic disc brakes offer more progressive and stronger braking with less finger effort, and they self-adjust for brake pad wear.
Advantages compared to rim brakes: More consistent braking in all conditions; much cheaper to replace a worn rotor than a whole wheel; superior performance in steep and wet terrains; less finger strain.
Disadvantages compared to rim brakes: More difficult to inspect pad wear and replace pads. Hydraulic brakes are more expensive to service.
Cable-activated (mechanical) brakes need manual adjusting as the pads wear.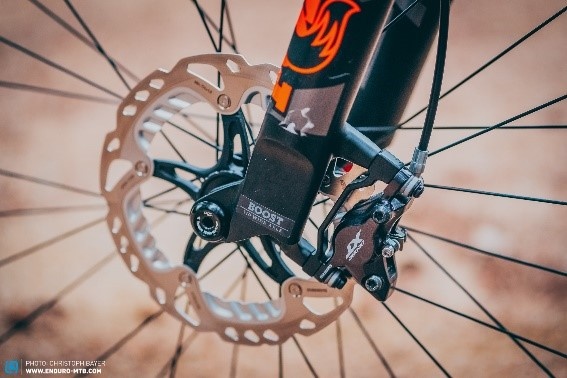 Hydraulic Disc Brake
Rim brakes: Some entry-level mountain bikes come with rim brakes. Rim brakes feature pads that grip onto the wheel rims.
Advantages compared to disc brakes: Economical; easy to observe brake pad wear and replace worn pads.
Disadvantages compared to disc brakes: Gradually wears out the wheel rim, requiring the wheel to be replaced; less stopping power; less effective in wet or muddy conditions; requires more finger effort on the levers to brake aggressively.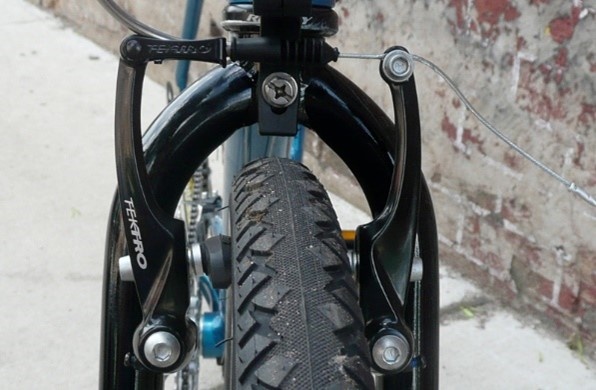 Rim Brake
Mountain Bike Dropper Posts
Dropper seatposts, or popularly referred to just as dropper posts, are one of the best upgrades you can make to any mountain bike, and many higher end bikes feature them as stock components. Operated by a remote actuation that mounts on the handlebars, these seatposts allow riders to change the height of their seat without getting off their bike.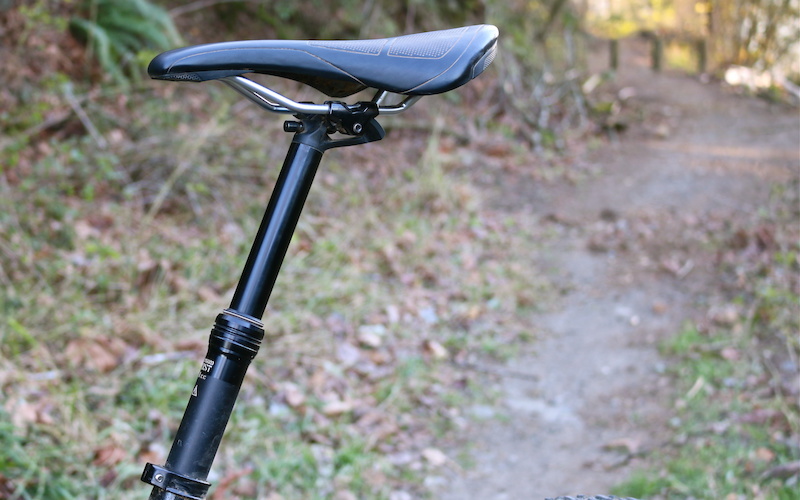 Specialized Command Dropper Post
Mountain Bike Fit
One of the most important aspects of buying a mountain bike is finding the one that fits you correctly. A bike that fits well and is right for your height, flexibility and riding style is a bike you'll love riding, and a properly fitting bike can improve your handling and confidence on the trail to help you tackle more technical and challenging rides.
Mountain Bike Sizing
Many mountain bikes come in standard sizes (S, M, L) and are generally similar across brands. However, some brands have sizing methods. You can refer to the size chart below to get a general idea of what size mountain bike you should get, or you can view our full Mountain Bike Sizing Guide to go more in depth.

Mountain Bike General Size Guide
Get the best fit by going to a bike store: The best way to find out what mountain bike suits you best is to head to a specialty bike retailer to identify some suitable models and try out a few bikes.
Mountain Bike Maintenance
Make sure you have at least the bare essentials for repairs and maintenance: spare tube, patch kit, tire levers, pump, multi-tool, chain lube and something to carry it all in. And, don't forget a helmet. 
Many shops provide a free first tune-up and will include other special items when you buy a bike. Be sure you bring back your new bike to take advantage of that offer.